Deluxe  News…Deluxe  News…Deluxe  News…
<![if !vml]>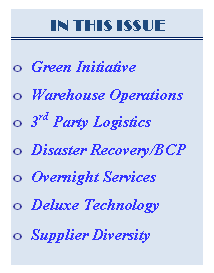 <![endif]>
Green Initiative – Reducing Carbon Footprint: Deluxe brings out its new Hybrid Shuttle Van.
True to our word, Deluxe has joined the club of the environmentally conscious, introducing a brand new hybrid electric passenger shuttle to its fleet. 
This new vehicle is already in operation at Disney/ABC and we are already contemplating hybrid delivery vans/trucks.
We will continue to explore ways of reducing our carbon footprint and save our forests.
<![if !vml]>

<![endif]>Recycling Program: DDS has partnered with one of our major customers to reduce their impact on the environment with an innovative approach to package handing. In keeping with our recycling program, we have been able to double the usability of cardboard boxes for this customer. Reusable boxes have an average shelf life of 20 shipments, but through careful handling and storage we have managed to double that figure.
We continue to reduce paper waste through internet orders. Deluxe online order entry and electronic billing systems are a major factor in saving paper and conserving our forests and trees. We also encourage double-sided printing and utilizing half-used paper for notepads.
Carbon Reduction Program
We too are making our own contribution to reducing carbon footprint while improving service to our customers.  Here are some of the measures we are taking towards a healthier nation and a healthier world:  
<![if !supportLists]>· <![endif]>Mass Transit - reduced gridlock, reduced emissions. The increased use of Mass Transit in the cities we service reduces overall vehicle use and thus less emission, which is a major contribution to a healthier environment. Car pooling is also encouraged.
<![if !supportLists]>· <![endif]>In major cities like New York and Washington DC, we are facilitating hand-carryable but bulky deliveries by more foot carriers and bikers, thus impacting positively on the ecosystem since most companies use a vehicle to expedite such deliveries.
<![if !supportLists]>· <![endif]>DDS already has a small fleet of rickshaw-type vehicles around the city to pickup and deliver small quantities of packages/boxes which usually required a motor vehicle. We are getting ready to launch more of these in the near future.
<![if !supportLists]>· <![endif]>Consolidation of deliveries destined for the same vicinity, with significant rate reduction to customers, besides getting the jobs done more efficiently and economically also helps in reducing the volume of emission. 
<![if !supportLists]>· <![endif]>The DDS strategy of offering steep discounts on consolidating on-demand and overnight deliveries allows customers to save a lot more while helping to protect the environment.
Consolidation of Deliveries: part of our green initiative.
Consolidate Deluxe and FedEx and Enjoy Great Cost Savings.
You can now consolidate and save on these services and receive one invoice for all of the above without any changes or interruption of your current service.
<![if !supportLists]>·

<![endif]>
DDS will have your FedEx shipping costs included with your regular courier charges.
<![if !supportLists]>·

<![endif]>
You will receive a single invoice and have the same service with less stress, less time and even less paperwork.
<![if !supportLists]>·

<![endif]>
FedEx charges will be itemized on the invoice.
Contact your sales representative to get started ASAP!
Warehousing & Storage Operations
Deluxe is planning the acquisition of additional warehouse space in Long Island City to facilitate the continually expanding operations in this service area. Over the past year we have experienced a substantial growth in our Fulfillment & Distribution / Pick & Pack operations.    
Our current satellite location in Long Island City offers the added advantage of being the center of Deluxe's local fulfillment operations. Retrieval of and additions to storage boxes can be expedited at a moment's notice. Warehouse security features include:
<![if !supportLists]>· <![endif]>Easy loading dock access
<![if !supportLists]>· <![endif]>Electronically monitored 24 hours a day, 7 days a week
<![if !supportLists]>· <![endif]>Manned by Deluxe staff 24 hours a day, 7 days a week
<![if !supportLists]>· <![endif]>Guaranteed immediate pickup and delivery
<![if !supportLists]>· <![endif]>Renovated and leak-free 
<![if !supportLists]>· <![endif]>Shrink-wrapping to protect from the elements
Disaster Recovery & Business Continuity Plan
Disaster Recovery Space
The storage and warehousing site can also be utilized to house a temporary office, store records, or used as a mailroom facility for mail sorting and distribution, etc. and for any contingency operations.
DDS' emergency service/disaster recovery program includes back-up facilities equipped with hardware and Internet access in Long Island City, Queens and Washington DC. The program mirrors the capability of DDS' main office at 777 8th Avenue, New York, NY 10036.
The fact that DDS' dispatch system is web-based allows us to operate from any location including from home.
Backup servers and power supply have been installed in residences of key DDS personnel in case of total office shutdown.
Mass storage devices such as high capacity disc drives are kept for easy movement of data should a change of location become necessary.
This plan provides a seamless rollover of services to our customers in the event of an emergency.
All of our customers are provided an emergency Contact List. There is a single central contact as well as contingency contacts available 24 hours a day 7 days a week. There is also a toll-free 800 number (1-877-814-1722).
Overnight Services – with great cost savings to customers!
The establishment, development, implementation and growth of Deluxe Direct technology have enabled Deluxe to expedite Overnight Services. We now have the broadest footprint of overnight services in the NY tri-state area. We can be your partner for overnight deliveries. We have the latest pickup time and guaranteed next-day a.m. and p.m. deliveries.
Deluxe ventured into the overnight delivery aspect of our industry approximately 3 years ago and has already acquired major organizations to our list of overnight users. We have seen a 45% growth in the past year. 
Utilizing our advanced communication system and large motor fleet, DDS offers outstanding service at significant cost reduction. Imagine being able to redirect packages at a second's notice and not having to incur a minimum of a 24-hour delay. DDS allows you to know exactly where your package is at any given time.
If you have encountered issues such as these, or you just want to save money, then this is the service for you. If you already have an account with DDS, you're already on your way!
3rd Party Logistics/Order Fulfillment Services
Deluxe is currently providing these services to several customers including the New York City Department of Education, for whom we provide Storage, Pick & Pack, and Distribution services to all NYC public schools – the largest school system in the USA.
Deluxe receives and stores items such as parent guides and student guides at its LIC warehouse. Pickers select items from the order manifest and give to the packers. Packers double check items and select appropriate packaging material, then pack the items and label packages for delivery. Packages are routed and Deluxe delivery staff completes distribution.
DeluxeDirect – State-of-the-Art Technology
Many of our major customers are now utilizing DeluxeDirect - our new proprietary state-of-the-art courier software system. DeluxeDirect is a complete Shipping & Receiving System, which incorporates an online Order Entry & Tracking module, allowing you to initiate requests and track jobs quickly and conveniently. The system primarily functions as an accounting tool providing invoices & reports online.
The system is web-based and password-driven
Deluxe Direct provides an easy-to-use graphic user interface.  It not only utilizes a desktop application but also a user- friendly web-based application.  Users of DeluxeDirect can execute the following operations right from the desktop:
<![if !supportLists]>· <![endif]>Initiate job requests
<![if !supportLists]>· <![endif]>Online Tracking and 'Proof of Delivery'
<![if !supportLists]>· <![endif]>Online Invoicing and Reports
Billing / Invoicing
<![if !supportLists]>· <![endif]>EDI billing
<![if !supportLists]>· <![endif]>PCard payment System
The system utilizes existing Nextel & Symbol hardware and DDS proprietary software to effectively create and track profiles for any package being moved. The system is suited for mailroom applications, as well as messenger operations. The system even allows for real- time PODs from within your building and from the field.
Users of DeluxeDirect will be able to take advantage of its FedEx integration feature and be able to order, track and receive FedEx and DDS jobs using the same application.
Finally, one complete system for all of your point-to-point and mailroom operational needs.
<![if !supportLists]>· <![endif]>Nextel order/dispatch communication system
<![if !supportLists]>· <![endif]>Orders are dispatched electronically to drivers via
<![if !supportLists]>· <![endif]>Nextel 2-way radio/cell phone or e-mail
<![if !supportLists]>· <![endif]>POD captured on Symbol handheld pad or
<![if !supportLists]>· <![endif]>Driver transmits via Nextel POD name to host system
<![if !supportLists]>· <![endif]>POD becomes available on-line
Supplier Diversity
DDS is a Minority owned, controlled and operated Business Enterprise
Our commitment to supplier diversity is reflected in the fact that during the year 2009, DDS management and staff participated in over 50 minority events around the country sponsored by Corporations, City and State, and Federal agencies.
DDS always takes the initiative to work with and support other MBEs to grow in the competitive corporate world. We continue the tradition of establishing relations and forming alliances with minority business.
We are always working to increase contracting opportunities between corporations and minority owned businesses. Attending minority events allows us to connect with MBEs and become more involved in helping them grow their businesses.
We are MBE certified by the following agencies:
<![if !supportLists]>o <![endif]>The New York/New Jersey Minority Purchasing Council
<![if !supportLists]>o <![endif]>Maryland/DC MSDC
<![if !supportLists]>o <![endif]>Connecticut MSDC
<![if !supportLists]>o <![endif]>PA-NJ-DE MSDC
<![if !supportLists]>o <![endif]>Port Authority of NY & NJ
<![if !supportLists]>o <![endif]>MTA – New York City Transit
<![if !supportLists]>o <![endif]>MBDA US Department of Commerce